Les lamantins, Manatees (family Trichechidae, genus Trichechus)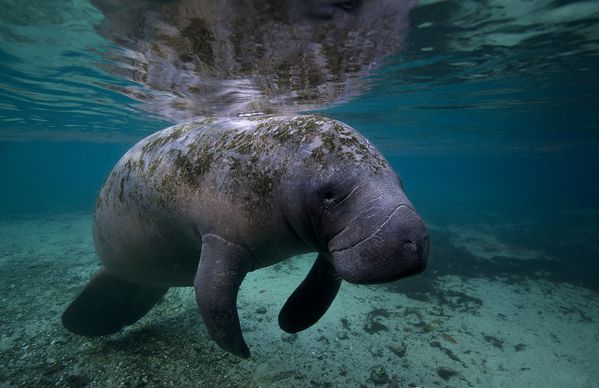 This shot was taken at Crystal River in Florida USA. The manatees were surprisingly relaxed with me coming in close. The younger manatees and babies frequently came in an checked me out (not sure if they were looking at their own reflection in my dome port). This was shot a 7am.Alastair Pollock
Website: www.flickr.com/photos/alastair_pollock/
©Manatee by Alastair Pollock was photo of the day on Sunday, 2nd January 2011
Les lamantins sont de gros mammifères herbivores, au corps fuselé, vivant en eaux littorales peu profondes, dans l'embouchure des fleuves et les marais côtiers de la zone tropicale de l'Atlantique. Leur faciès large et leur mode d'alimentation leur vaut parfois le surnom de « vaches de mer » ou « vaches marines ».
Les lamantins appartiennent au genre Trichechus, seul genre de la famille des Trichechidae, qui compte selon les auteurs, trois ou quatre espèces très proches. Ils constituent avec les dugongs (famille des Dugongidae) et le Rhytine de Steller aujourd'hui éteint, l'ordre des siréniens.
http://fr.wikipedia.org/wiki/Lamantin
--------------
Manatees (family Trichechidae, genus Trichechus) are large, fully aquatic, mostly herbivorous marine mammals sometimes known as sea cows. There are three accepted living species of Trichechidae, representing three of the four living species in the order Sirenia: the Amazonian manatee (Trichechus inunguis), the West Indian manatee (Trichechus manatus), and the West African manatee (Trichechus senegalensis). They measure up to 3.6 metres (12 ft)), and have paddle-like flippers. The name manatí comes from the Taíno, a pre-Columbian people of the Caribbean, meaning "breast"
Commentaires