Le requin citron (Negaprion brevirostris), Lemon Shark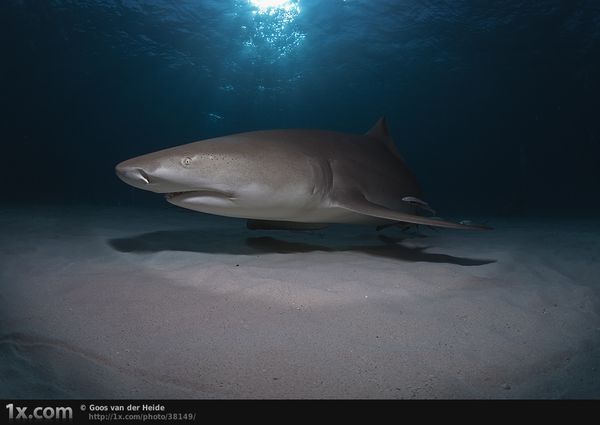 Lemon Shark at Sunset © Goos van der Heide
Le requin citron (Negaprion brevirostris) est un requin vivant habituellement près des côtes, qui peut se trouver seul ou en petit groupe (5 individus). Généralement peu agressif, sa taille le rend cependant potentiellement dangereux pour l'Homme. Il a d'ailleurs été impliqué dans plusieurs attaques sur l'Homme.
Le requin limon faucille (Negaprion acutidens) vivant dans l'océan Indien est parfois aussi dénommé requin citron.
Description[modifier]
Le requin citron (Negaprion brevirostris), qui appartient à la famille Carcharhinidae, est appelé ainsi car il a une couleur plus jaune que les autres. Il peut atteindre 3,40 mètres de long. Sa nageoire dorsale postérieure est sensiblement de la même taille que sa nageoire dorsale antérieure.Il peut vivre 25 ans.
Habitat[modifier]
On le trouve essentiellement dans la région subtropicale des côtes atlantiques et pacifiques du Nord et du Sud américain, mais aussi dans les îles du pacifique et sur la côte ouest de l'Afrique, de la surface à -90 mètres
© http://fr.wikipedia.org/wiki/Requin_citron
The lemon shark, Negaprion brevirostris, is a shark that belongs to the family Carcharhinidae that can grow 10 feet (3.0 m) long.
The lemon shark is found mainly along the subtropical and tropical parts of the Atlantic and Pacific coasts of North and South America, and around Pacific Islands. The longest lemon shark recorded was 13 ft long, but they are usually 8 to 10 ft (3.0 m). They like tropical water, and like to stay at moderate depths. Lemon sharks are often accompanied by remoras.
Commentaires