Le papillon de mer ou clione (Clione limacina)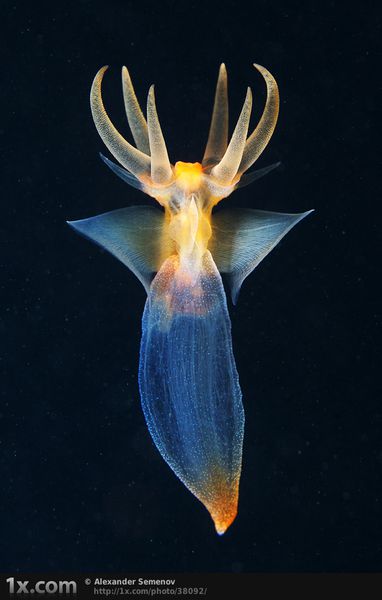 Evil King of the Abyss © Alexander Semenov
Pteropod mollusk Clione limacina
Le papillon de mer ou clione (Clione limacina) est un petit mollusque marin. Il s'agit d'un petit mollusque sans coquille, translucide, d'environ 2,5 cm de long, qui possède sur les côtés du corps deux nageoires qu'il utilise pour se déplacer. Le papillon de mer ne possède ni coquille ni branchie. Son corps transparent laisse apercevoir ses organes, sa tête portant deux paires de tentacules que l'animal déploie pour capturer ses proies.
Classification
Règne Animalia
Embranchement Mollusca
Classe Gastropoda
Ordre incertae sedis
Super-famille Clionoidea
Famille Clionidae
Genre Clione
Nom binominal
Clione limacina Phipps, 1774
http://fr.wikipedia.org/wiki/Papillon_de_mer
--------
Clione limacina, common name Naked Sea Butterfly or Common Clione, is a sea angel found from the surface to 350 m in depth. Lives in both Arctic and Antarctic Oceans.
It was first described by Martens in 1676 and became the first gymnosomatous "pteropod" to be described.[1]
Distribution of Clione limacina include mostly in cold waters, as the Arctic Ocean and Antarctic waters; also in Northern Atlantic and Eastern Pacific temperate waters.
They aggregate sometimes in considerable numbers before the coasts of Northern Europe.
http://en.wikipedia.org/wiki/Clione_limacina
Cellular Mechanisms Underlying Swim Acceleration in the Pteropod Mollusk Clione limacina by : Thomas J. Pirtle2,,1 and Richard A. Satterlie2
Commentaires