Insolite, buzz; Un dauphin rose, the pink dolphin !!!
Nouvelle rubrique de ce blog; la rubrique insolite vous fera part, de temps en temps, d'une info originale glanée sur le net ou ailleurs !
Découvert dans les eaux de Louisiane en juin 2007, le dauphin rose est en fait un dauphin albinos. Donc, rien à voir avec le dauphin rose d'Amazonie.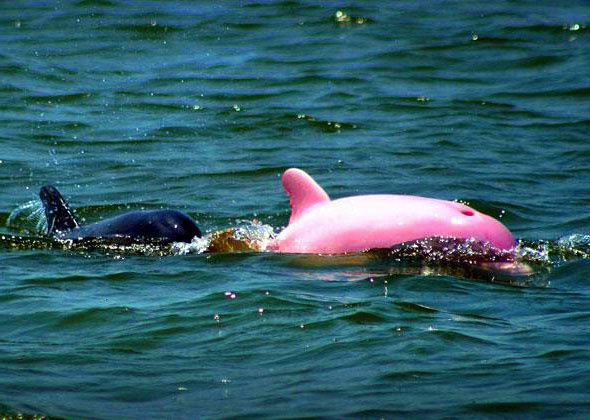 Il a été photographié dans un estuaire en Louisiane (Etats-Unis) en 2007, par un capitaine de bateau de pêche.
Lien vers le site
http://calcasieucharters.com/index.cfm?act=imagegallery.cfm&name=Rare+Pink+Dolphin+Photo+Gallery#top
The Pink Dolphin is still around!!!
This extremely rare and beautiful "pink dolphin" was spotted and photographed by Capt. Erik Rue of Calcasieu Charter Service on June 24th, 2007 during a charter fishing trip on Calcasieu Lake south of Lake Charles, LA.
It appears to be an uncanny freak of nature, an albino dolphin, with reddish eyes and glossy pink skin. It is small in comparison to the others it is traveling with and appears to be a youngster traveling with mama. After spotting the beautiful mammal cruising with a pod of four other dolphins, Rue and his guests Randy and Peyton Smith and Greg and Sam Elias of Monroe, LA idled nearby while watching and photographing the unusual sight for more than an hour.
Our expectations are high that we will see this amazing mammal again as it was in an area frequented by the gentle mammals and one confirmed report has it being spotted at least a month earlier in a nearby location. If it does turn up again, it will be a welcome surprise to our guests.
Commentaires